Plans for Another Kathy Stinson Board Book
I was delighted when Annick Press decided to make Red is Best available as a board book, and even moreso when I discovered this photo on flickr.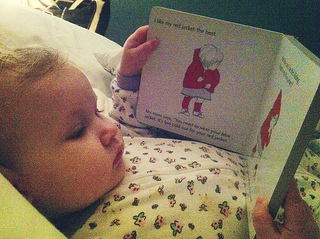 This year Annick decided to make Big or Little? available as a board book, too. I've changed some of its words so the book's very young readers will relate to what makes its narrator feel big – and little. And Jennifer A. Bell is now hard at work on new illustrations.
For an author or illustrator (or publisher), there's nothing quite like seeing a young reader absorbed in a picture book you've helped create. So I hope when the book comes out next year, someone will send me a photo like this one, of their little reader reading Big or Little?.
Thanks to 'notdarkfox' for permission to use this photo.
Kathy Stinson is the author of the classic Red Is Best and the award-winning The Man with the Violin. Her wide range of titles includes picture books, non-fiction, young adult fiction, historical fiction, horror, biography, series books, and short stories. She has met with her readers in every province and territory of Canada, in the United States, Britain, Liberia, and Korea. She lives in a small town in Ontario.